Trending New Apps of The Month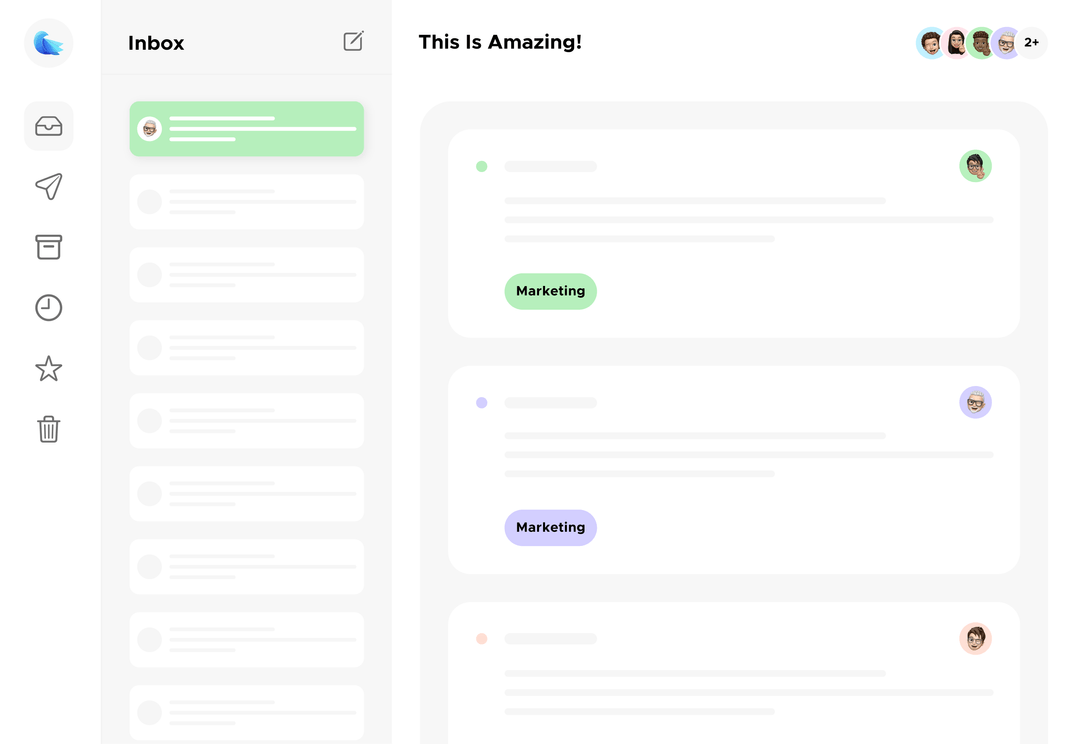 Nora: Material You music player for Windows
Oto Music is a great music player for Android that follows the Material You design specification and optimizes the presentation of music information to make it elegant to use. This gave other developers some new ideas, such as making a player on the desktop that was just as elegant and good-looking as Oto Music, and that's how Nora came to be on Windows. Since it is a benchmark for Oto Music, Nora also adopts the same Material You design style, but of course, dynamic theme coloring and theme icons are definitely not possible. The application interface is designed with rounded corners, and the fonts and icons are rounded and lovely, making the visual effect very comfortable. During operation, Nora presents a variety of visual effects. For example, when switching between light and dark modes, the font color reversal is a fade in and fade out animation, giving the user a tidal wave-like fluidity; the spacing of the action buttons in the mini player shrinks as the mouse hovers, which is also very dynamic. Nora gives way to album art for much of the song information display, including album art as a background in the mini player and single play log. Here, Nora shows a track record of songs played by users, including the number of times the single was played, the time it was played, the number of times it was skipped, and so on, so that after a while you can sort out which part of the song is your favorite. In addition, Nora can use the Musixmatch interface to get online lyrics, and you can use your own token to avoid the public interface being restricted. If you also need a music player for Windows, you can download Nora for free from GitHub.

Uno Identity: free and lightweight version of 1Password
Uno Identify is a cross-platform password management tool. The first thing that struck me was the "cracking" color scheme of the app, with red and green icons and pink and yellow design, which will instantly make you wary of password management. It supports login information, dynamic passwords, credit cards, personal addresses and encrypted wallets. You can add them manually in Vault Items, or use the import feature to quickly add vault data from 1Password, iCloud Keychain, Chrome, Lastpass, Bitwarden, and other major password management apps.
The app provides plug-in support for Safari for macOS and Chrome, as well as auto-fill passwords for the iOS keyboard, so you can achieve basic auto-fill functionality, but the app currently has general adaptations for dynamic passwords or complex information such as personal addresses, and dynamic passwords sometimes fail to auto-fill and can only be solved by copying them manually.
Uno Identify is also prepared with some basic design for team collaboration, for example you can form a family or a team and quickly implement password sharing. You can also share your login information to your contacts in the vault by clicking the Share Login button under any item as a public or partially public link with a limited expiration date. However, Uno Identify only has a time limit of 1/7/30 days, and the link cannot be opened only once like 1Password, so there is some security risk.
When it comes to security, Uno Identify's official website elaborates at length on its efforts in this area, such as using Curve 25519 encryption to ensure that encryption, decryption, authorization and other operations are performed locally, etc. However, like 1Password, the app can only use the official cloud service to synchronize vault data, which alone makes it hard for me to find it "reliable. But since the app is currently open source, you can check it out on GitHub if you have any doubts about security.
You can set up multiple trusted contacts for your account, and if your device is accidentally lost, you'll need to verify iCloud Keychain authentication and confirm your contacts before you can recover your data, so you can avoid leaking personal information.
In my opinion, in such a sensitive area as password management, either backed by a mainstream app like 1Password, where even a major vulnerability could easily be poked out, or with an app like Bitwarden, which is a self-built cloud service or completely localized, or with iCloud Keychain or a browser's own password management tool, for one thing, Uno Identify wouldn't be my first choice in any way. But if you want to try a standalone password management tool, Uno Identify's completely free strategy, cross-platform coverage, and zero-threshold build method aren't bad for managing some of the less risky password information. You can download Uno Identity for free from the App Store.
Gika: recording life with a timer
Gika is an iOS app that uses this idea to record life in a simple way. Gika is a very simple (or rather simple) little tool, the UI only has three types of recordings: "good", "bad" and "great", after selecting the type you can fill in the content of the event and choose whether it is a positive timer, a countdown timer or a tomato timer. Of course, you can also do multiple schedule timings at the same time, which will eventually be integrated in the day view. However, it is important to note that the tomato clock record is a limited record function for internal purchase, and the internal purchase will also unlock the daily timeline display. In addition, Gika can also automatically integrate daily sleep and exercise time data into Gika's records through Health Kit.
Canary Mail: Let AI write my emails for me
One of the most common scenarios in life and work is perhaps sending and receiving emails – especially at work, where composing and replying to emails is often the most time-consuming – and AI may really change all that.
Canary Mail, which has been called "the smartest email app," has recently added an improvement to its AI capabilities – writing emails via Copilot. Next, we just need to enter the subject or the general content of the email you want to compose, for example, I entered this paragraph that I want to have a video conference with the other party in the near future to communicate the project progress, and then click the confirmation on the keyboard.
After that, I need to wait for Copilot to automatically generate a complete email content. In fact, from the Chinese context, the body content looks more "formal", like the text content of an official email, but at least it reads less mechanically and more like a formal human reply. If you don't think the text is appropriate, you can try Copilot again to regenerate it.
In addition to writing emails with Copilot, you can also invoke Copilot in the dashboard version to assist with operations such as viewing upcoming events, canceling email subscriptions, or reading important new emails immediately to help you better handle various email issues.
These new AI-related features of Canary Mail are available on multiple platforms, so you can download and use them according to your device platform. Canary Mail is subscription-based, so if you like Canary Mail's smart and efficient new features, try buying a subscription.
Journey: The old diary app, but with a new Material You design
When it comes to diary apps, most people focus on the ease of recording, the aesthetics of the interface, and the relatively sensitive pricing information. But as a private treehouse for our daily lives, a diary app must first offer longevity and stability, and Journey clearly fits that bill.
Originally an Android-only diary app, Journey has evolved into an all-platform app with clients for Android, iOS, macOS, Windows, and other platforms, basically meeting most people's recording needs. Not long ago, Journey received a major update for Android: a new Material Design 3 design from the inside out.
Thanks to the new design, Journey's interface is now rich and versatile, with a theme color that follows the system's current theme color, or you can choose from one of the 13 built-in color schemes. In addition, the introduction of large color blocks and larger buttons has increased the contrast of the app's interface, making it more sophisticated and easier for users to identify.
Thanks to this update of the application interface, Journey has an adaptive layout that allows it to adapt to different screen sizes and present different layouts according to the screen's display conditions. In terms of functionality, Journey has further optimized the timeline by bringing it to the calendar screen, making it easier to access different dates by scrolling through the calendar timeline, rather than having to go back to the calendar screen and re-tap each time. The timeline has also been applied to Journey's map interface, so that the diary entries written at a location can now be displayed in timeline order by clicking on the corresponding location. What's more, with this update, Journey extends the template feature from Web and iOS to Android, so that we can easily reuse specific templates without having to manually enter the information each time. As a diary app, Journey has almost no obvious shortcomings. You can download Journey on the official website, it's free and currently available on a subscription basis, which is available across all platforms.
HomeBrew 4.0.0: HomeBrew has recently been updated to version 4.0.0, which is officially claimed to be the biggest update since version 3.6.0.
Microsoft PowerToys (Windows): Updated to v0.68. Brings new utility Paste as Plain Text, which allows users to paste unformatted text from the clipboard in plain text format; new tool Mouse Jump allows to quickly move the mouse pointer over long distances on a single screen or multiple screens.