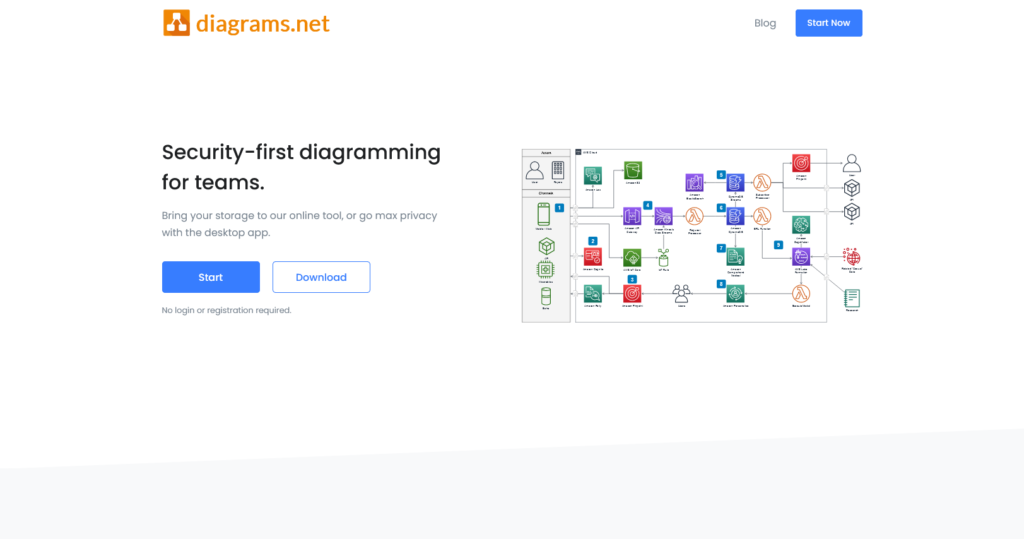 diagrams.net, also known as Draw.io, is an open source free cross-platform flowchart drawing tool, alternative to Visio and ProcessOn.
Just as the so-called "one picture is worth a thousand words", whether it is business office, PPT presentation, learning summary, technical communication, project development, we often need to make some charts, flow charts, architecture diagrams to more intuitively present the content and classify and sort out the knowledge points.

The best drawing software on the market are: ProcessOn, Visio, Edraw Diagram, etc. are basically charged, and Diagrams.net is a completely free and open source cross-platform drawing tool! It not only has an online web version, but also supports Windows, Mac and Linux clients, but it also requires no registration, unlimited files, exportable imports, and a large number of rich and professional chart templates.
As an open source drawing software, Diagrams.net is not only completely free, but also has no restrictions! It doesn't require a login, so it makes you want to send money to developers! You can use the web version online directly through your browser (no installation), and you can download offline versions of Windows, Mac and Linux desktop clients, which can be said to be universal across platforms.
Diagrams.net supports drawing various common charts, such as flow chart, structure chart, network topology chart, organization chart, class diagram, UML, data diagram, wire frame diagram, plan diagram, swim lane diagram, E-R diagram, circuit diagram, etc., which can basically perfectly replace the similar tools such as Microsoft Visio, ProcessOn, Edraw diagram, etc., and there is no need to look everywhere to crack or worry about copyright issues. Compared with paid software, it is not lost in function at all, the proper free conscience artifact.
The above picture is the screenshot of the Diagrams.net web version interface, anytime, anywhere, just use the browser to open the official website can start drawing, no need to download no installation, very convenient! And, if you feel that the official website is too slow to access, you can even deploy on your own server to get better Internet speed.
Diagrams.net has hundreds of built-in templates. When creating a new drawing, you can choose at will according to your needs. From simple block diagrams to complex flow charts, you can easily draw charts in different fields. It has a wide range of uses.
And the variety of drawing graphic elements is simply amazing!! A wide variety of drawing needs can be well covered. At the same time, the element style is also provided with traditional and serious wireframes and cute hand-drawn caricatures and other different style designs for you to use in different occasions.
Diagrams.net software interface design and use of the same kind of drawing tools are basically the same, the left sidebar can choose different drawing elements, drag and drop on the canvas can be further adjusted, move the position, zoom out, wire, etc., in the right sidebar can set the style, color, size and various attributes of the graphic, etc., the use is very intuitive.
Conveniently, Diagrams.net offers an installation-free, registration-free web version that allows you to create or open a drawing document at any time with a browser on any computer platform, even with an iPad tablet. The drawing and use experience is basically no different from the software version, and it is very easy to use.
At the same time, heavy users who often need to map can also download the offline desktop client installed in Windows, macOS, Linux and ChromeOS, which can realize the association of files to open.
Diagrams.net supports exporting to PNG, JPG, SVG, PDF, XML, HTML and other formats, and also supports embedding in documents such as Office and Notion. For developers, Draw.io also creatively supports embedded in VSCode or JetBrain series software, in the process of writing code, occasionally need to draw a flowchart, but then you can directly draw in the IDE, very practical.
Thanks to open source, Diagrams.net also allows you to build your own private online drawing site on your own VPS server. If you know some basic Linux and Docker usage, deployment is pretty simple. Diagrams.net itself focuses more on the "flowchart" production piece, the popular "mind map" related templates, elements and styles are not particularly many (the template is located under the "map" category), you can use Central Idea, Branch, Sub Topic and other elements to make maps, it also provides automatic mind map layout. Of course, if you're primarily looking for mind maps, you can use tools like XMind, ProcessOn, MindMaster, and more brainmap-focused tools, which I personally feel will be faster and more beautiful than Draw.io.
Diagrams.net is open source, completely free and cross-platform. It provides online web version and offline desktop client. It can be used directly without registered users. There is no payment and file limit and other troubles. It can be said that it is not too much to pay for hanging!
Therefore, Diagrams.net is obviously much more professional and powerful than using Office, WPS or the simple built-in drawing function in various note-taking or writing softwareDraw.io. In addition, it is completely free + available on all platforms, so when you need to draw, you can consider drawing more beautiful pictures or charts with the help of free Diagrams.net.