iPad and iPad Pro Released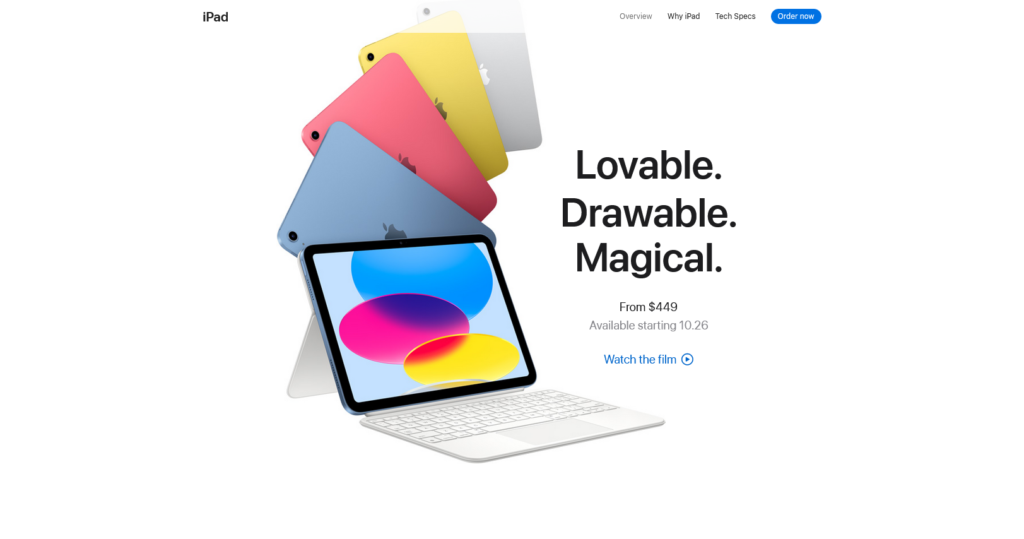 On the evening of October 18, Apple launched the new generation of iPad and iPad Pro series directly through an online launch without holding a launch event. The new iPad features a full-screen design and a new keyboard accessory: a keyboard-style smart duplex clip; the new iPad Pro is equipped with the latest Apple silicon architecture M2 chip and also brings a new hover function to the Apple Pencil.

iPad Pro: M2 chip arrives on schedule, plus new Apple Pencil features
A year and a half after the release of the previous generation, Apple has finally launched a new generation of the iPad Pro series. In terms of appearance, the sixth-generation iPad Pro is no different from its predecessor and is also available in 11-inch and 12.9-inch versions; it is also equipped with Apple's latest M2 chip, as we all expected.
According to Apple, the M2 chip on the sixth-generation iPad Pro features an 8-core central processing unit that can run at up to 15 percent faster than its predecessor, a 10-core graphics processor that can run at up to 35 percent faster, and a 16-core neural network engine that can perform 15.8 trillion operations per second, a speed increase of up to 40 percent. In addition to supporting up to 16GB of high-speed unified memory like its predecessor, the new iPad Pro also features up to 100GB/s of unified memory bandwidth, which Apple claims is up to 50 percent faster than the M1.
With the power of the M2 chip, the sixth generation iPad Pro also includes the ProRes codec engine with ProRes and ProRes RAW hardware acceleration. Film and video creators can shoot video in ProRes format up to 4K at 30 fps on the new iPad Pro. Note that on iPad Pro models with 128GB of storage, you can only shoot up to 1080p 30 fps ProRes video. For photography, the new iPad Pro also adds support for the Smart HDR 4 photo technology introduced in the iPhone 13 series.
The Apple Pencil, one of iPad's most prominent accessories, has not received an update, but it does have a new capability on the new iPad Pro: hover. According to Apple, the new iPad Pro can detect the tip of the Apple Pencil within 12 millimeters of the screen. Users can use this feature to preview Apple Pencil strokes before they drop their pen and improve the accuracy of their creative content, and third-party apps can help users create better with this new ability of the Apple Pencil.
Comparing the technical specifications provided by Apple's official website, we can see that while the new iPad Pro supports wireless LAN (802.11a/b/g/n/ac/ax), 2.4GHz and 5GHz connectivity, and simultaneous dual-band, the maximum connection speed has been increased from 1.2Gbps to 2.4Gbps, and Bluetooth connectivity has been updated from Bluetooth 5.0 to Bluetooth 5.3. The technology has also been updated from Bluetooth 5.0 to Bluetooth 5.3.
In terms of price, the sixth-generation iPad Pro will be available for order at 9 a.m. on October 20 and officially on sale on October 26.
iPad: With a full screen and a new keyboard accessory
In addition to the iPad Pro product line, the regular version of iPad has also been updated to the tenth generation. Compared to the previous generation, the screen has been upgraded from 10.2 inches to a 10.9-inch full screen with equal width on all sides, a screen resolution of 2360×1640 pixels, a maximum brightness of 500nit and support for original color display.
The processor has been upgraded from A13 to A14, with a 3x increase in overall performance compared to the 7th generation. The front camera remains 12MP, but the position has been changed from vertical to horizontal and supports 122 degree wide angle and portrait centering.
The new iPad also features a dual-microphone design that captures audio from the camera the user is using while calling a microphone near the other camera to collect background noise and minimize background noise that causes distractions. In addition, the speakers have been changed to horizontal stereo speakers.
The new iPad supports 802.11ax and 5G cellular networks, and the interface has been upgraded from Lighting to USB-C. iPad is available in blue, pink, yellow, and silver, and will be priced from $3,599; pre-orders will begin on October 20.
Apple TV 4K: Stronger chip, lower price
Finally, Apple also announced the third generation of Apple TV 4K with the powerful A15 Bionic chip and a lower starting price for the lineup.
The biggest hardware change in the new Apple TV 4K is the chip, which has been upgraded from the previous generation's A12 bionic chip to the A15 bionic chip, resulting in a 50 percent increase in CPU performance and a 30 percent increase in GPU performance. This brings a 50% increase in CPU performance and a 30% increase in GPU performance. The performance is guaranteed for both video and gaming experiences.
The current generation of Apple TV 4K is available in 64 GB and 128 GB versions depending on network interface and storage space. The former is Wi-Fi only, while the latter has Wi-Fi and Gigabit Ethernet interface and supports Thread mesh network protocol to connect more smart home accessories.
In terms of design, while the overall styling remains the same as the previous two generations, the size of the new Apple TV 4K has changed slightly. The length and width have been reduced from 98 mm to 93 mm, and the height has been reduced from 35 mm to 31 mm. The weight has changed significantly, from 425 grams to 214 grams for the Ethernet version and only 208 grams for the Wi-Fi version.
Other parameters of the new generation of Apple TV 4K are not much changed from its predecessor, with video specifications supporting up to 2160p & 60 fps SDR, Dolby Vision and HDR10+/HDR10 video, audio specifications supporting Dolby Atmos, Dolby Digital 7.1 or Dolby Digital 5.1 surround sound, but the charging port of the Siri Remote trackpad is changed from Lighting to USB-C. In addition, tvOS 16 will feature a complete redesign of Siri on Apple TV to recognize each user's voice.
The new Apple TV 4K 64 GB version is available for $129 in the U.S. and $149 for the 128 GB version, and can be ordered now in more than 30 countries, including the U.S., and will go on sale on November 4.
Other
For the new iPadOS 16 and macOS Ventura operating systems announced at the WWDC22 Worldwide Developers Conference, the official launch dates have finally been confirmed. According to the latest update on Apple's official website, iPadOS 16 will be officially launched on October 25, Beijing time, and macOS Ventura will also be released on the same day, October 25.